Procedural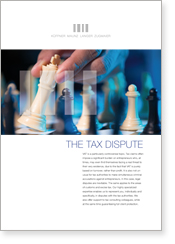 VAT is a particularly contentious area, and as a result, VAT cases are a permanent feature before the courts. On closer inspection, this is not surprising. Tax claims often impose a significant burden on taxable persons who, given that VAT is purely based on turnover, rather than profit, can even find themselves facing a real threat to their very existence. Many companies therefore have no choice but to defend their rights before the courts. It is also not unusual for tax authorities to make simultaneous criminal accusations against taxable persons. Legal disputes are inevitable.

The same applies to customs and excise tax. Here too you can rely on our expertise and our extensive experience, to represent you in disputes with the tax authorities. If you already have a tax consultant, we will be happy to offer support to tax consulting colleagues, while at the same time guaranteeing them full client protection.
With our know-how as lawyers we can:
assist you with VAT audits,
negotiate with tax authorities,
apply for binding rulings,
file appeals,
file lawsuits in the tax courts,
represent you in the Federal Fiscal Court,
represent you in the Court of Justice of the European Union,
appear before the EC commission on your behalf.
We have acted as representatives in various legal proceedings.
The following is a selection of cases we have been involved in, which will provide you with an overall impression of the type of work we do: Please download here