SAP
VAT is a massive business, and companies often choose fully automated ERP software to handle these transactions. However, if any failures in the automation process occur, irrespective of how small they might be, the incorrectly calculated sums will multiply at lightning speed. This leads to additional VAT claims and, if you are unlucky, to the imposition of fines and the commencement of criminal proceedings.
Be on the safe side and avoid this problem by simply involving us at an early stage. We act as an interface between your IT department and the individual business units, e.g. logistics and sales, as well as with your tax department. We can ensure the operation of legally water tight procedures. We not only bring to the table the experience we have gained from managing many large SAP implementation projects for clients, but also that derived from conducting numerous SAP-VAT-Audits.
We will be happy to support you concerning all issues relating to VAT and SAP and, in particular, with the following problems:
Implementation of SAP
SAP-VAT-Audit
Preparation/Simulation of VAT audits
Implementation legislative amendments
Optimizing business processes
More Information
Less Information
VAT AND ERP SYSTEMS
VAT is a mass business that is managed automatically by ERP systems as part of everyday company operations. Errors in automation can rapidly lead to very high VAT deficiencies and deficiency interest. The necessary retroactive corrections are also time-consuming and therefore extremely costly.
VAT and ERP systems
VAT is a mass business. Each and every business transaction requires VAT processing. Due to the resulting large number of transactions, most businesses make use of automation with ERP systems to record and process VAT transactions.
The role of SAP
In Germany at least, SAP is more or less synonymous with the ERP system. ERP systems are used to map, automatically, the huge volume of transactions taking place in a business. Correct system settings, for example, the right tax determination logic and formally correct invoice print outs, are key.
Our expertise
As a legal firm specialising in VAT law, we have the experience and expertise to know which processes are relevant to VAT. For example, we know what information, in an order or contract of sale, is important and how that information can be processed in the SD or
FI module of the SAP system. Evaluating the existing settings and data in the system helps us to form an overall picture of your business, identify weaknesses and suggest improvements. We can, of course, not only do this for SAP but for all standard ERP systems (Oracle; Navision, etc.).
Our Dashboard
To make the best possible use of our VAT expertise in your ERP system, we have developed our own analytical tool, the "Dashboard". This tool helps us to systematically analyse the data in the ERP system and understand the tax determination processes. If necessary, we can use our Dashboard to verify details right down to the item level for individual documents.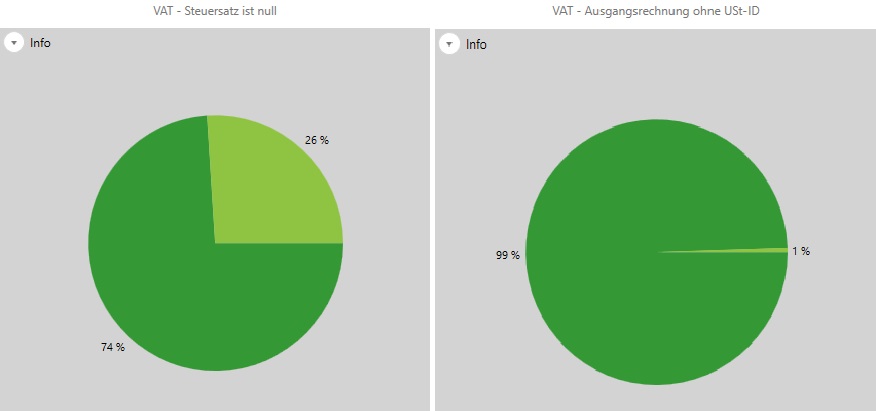 Our Dashboard can also electronically check VAT ID numbers recorded in the German Federal Tax Office master data and issue qualified VAT ID confirmation requests.
Our role in the business
We act as the interface between programmers in the IT department, the individual business units such as Logistics and Sales, and your tax department. If you require, we can also provide support with the implementation of programs and tools from external IT providers, for example, a tax engine. We can draw on our experience from numerous SAP implementation projects and SAP VAT audits.
What we offer
1. Launch of SAP
We assist companies with the launch of SAP and the implementation of tax determination logic. We work with the SAP advisors and other IT service providers to define the relevant settings and measures necessary to meet VAT requirements.
2. ERP VAT audit
We conduct ERP VAT audits of your business. These audits are not simply about checking documents for individual transactions; they assess the structure and functioning of your ERP system. Our focus is on a system and process-based examination of VAT related processes in the company. If we find an error, our Dashboard tool assists us to identify the documents in question, and to suggest solutions and optimisation options.
Structure test
Checking tax determination logic
Checking the relevant parameters for tax determination
Invoice form compliance
Function test
Interviews with the individual departments
Ensuring procedures and responsibilities
Checking manual access to the system
Trial balances
Audit of the compliance process (automatic generation of VAT returns, EC Sales List and Intrastat declaration)
3. Preparation/simulation of tax audits
We have extensive experience with the IDEA auditing program used by the tax authorities. With our Dashboard, we can anticipate routine audits by the tax authorities and examine your company's ERP system for any issues. Prior to an upcoming company audit or VAT audit in particular, it can be useful to take a very careful look at the ERP system, in order to be one step ahead of the auditor.
4. Implementation of legislative changes
We provide support with the implementation of legislative changes and changes in tax authority practice. We also help you to create invoice layouts that comply with formal requirements.
5. Business process optimisation
Optimising business processes can lead to additional profits: when we provide VAT and SAP support to your company, we gain an in-depth insight into your business transactions. In the process, we often come across delivery systems that have developed over time but that could be designed more efficiently. We can help you with supply chain management and highlight how you could save on time and logistics costs.
6. Tax compliance management system
Our Dashboard can help you to conduct regular audit routines to comply with your monitoring function as part of a tax compliance management system. We can help you to define the right audit routines for your business. On request, we can provide you with the Dashboard and the key performance indicators (KPI), defined in advance, for the regular assessment and documentation of findings. These services are provided under a licence model.
Contact: